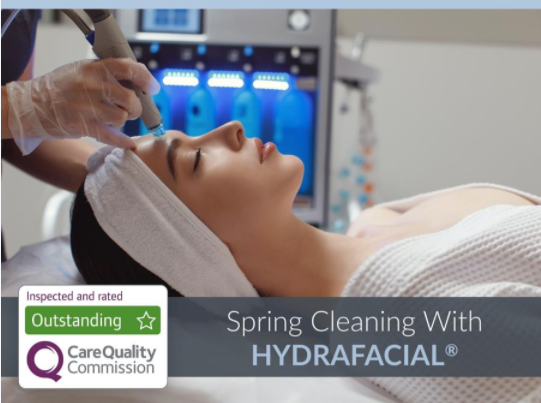 We are delighted to add HydraFacial®  to our range of treatments.
HydraFacial®  is a gentle skin enhancement procedure that can provide significant aesthetic and anti-ageing benefits for clients.
HydraFacial®  procedure utilises a patented technology known as hydradermabrasion, during which water is used to suction away impurities, remove dead skin cells, provide deep exfoliation and promote healthy cell turnover. However, HydraFacial®  sets itself apart with its final step: once the skin has been cleansed and dead cells have been removed, a solution of skin-boosting ingredients—including salicylic acid, hyaluronic acid, antioxidants and peptides chosen specifically to deal with individual skin concerns—is infused into the treatment area(s). The "skin boosting" step is customised to the client's individual skin concerns. This promotes clearer, firmer and more hydrated skin. It can also reduce pigmentation, smooth fine lines and improve acne.
HydraFacial®  is a versatile procedure that can help address many skin concerns, including acne, fine lines and wrinkles, oily skin, dry skin and clogged pores.
The treatment is comfortable and typically lasts around 45 minutes and there is usually no recovery time. It can complement other procedures—including microneedling, Lumecca IPL  and non-ablative laser treatments, such as  Fraxel®  Re:store.
Most patients describe it as a relaxing procedure. It is safe on all skin types and can be done all year round, regardless of whether a patient has a tan.
The results of a HydraFacial®  typically include near-immediate improvement in skin brightness, texture and hydration, and it is therefore a popular treatment before big events or photoshoots.
The price of HydraFacial®  is £185 including the bespoke "skin booster" step. As a special introductory "spring clean" for the month of May 2022 we are happy to offer an introductory first treatment with a skin booster step for £95.
The very best results with HydraFacial®  come with repeated treatments. Therefore, it is usually recommended that HydraFacial®  treatments be repeated ideally every month. For this reason, we offer pre-paid packages of HydraFacial®, i.e. five treatments with the sixth one free, or nine treatments with three more free. Repeated treatments can lead to improvement in the appearance of fine lines, skin hydration and pigmentation.
Do call or email us if you want to find out more about our treatments and skincare products.