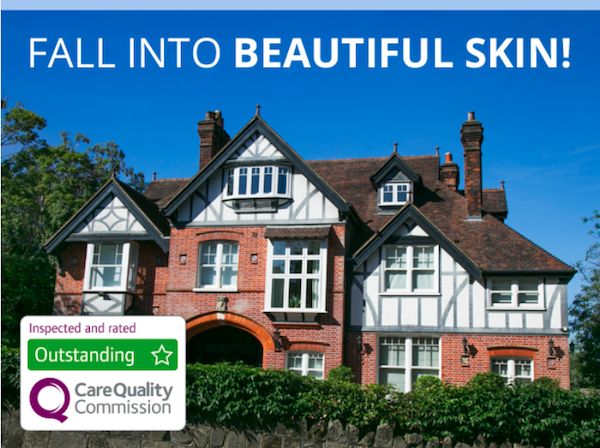 As summer draws to a close, students return to their studies and we start to get back into our usual routine. Now is the time to reassess our skin care routine and consider maintenance treatments.
Good skin care is fundamental and should include sunblocks, retinoids, and antioxidants. It is important to continue to wear good sunscreen all year round, not just in the summer months. It is also well-established that retinoid creams can have a significant long-term benefit. If you are interested in personalised advice on optimising your skin care programme, please do not hesitate to contact us.
We have a range of treatments available to address the signs of sun damage and aging. These include wrinkle-reducing injections, microneedling, LED light, laser facials, intense pulsed light (Lumecca), dermal fillers, Profhilo®, Laser Genesis, laser removal of thread veins, Fraxel®, and Fotona. They are best used in combination and the best results are achieved with repeated treatments (rather like a physical fitness plan—the best results are from repeated exercise sessions rather than a single long session).
Fotona laser, in particular, is a very versatile treatment which is best used as a four step procedure (termed the Fotona4D® Laser Facelift). The first step is gently heating inside the mouth, which tightens the lower face. The second step (called Frac3®) improves texture, fine lines, and pores. The third step (PIANO® mode) gently heats and tightens the skin. The fourth step is a gentle fractionated peel to improve the skin surface. This four step treatment has very little recovery time, but when done repeatedly tightens the skin, can give results resembling those of fillers but with fewer potential side effects, and in addition improves skin texture, closes pores, and evens out the skin surface.
The Fotona laser also has a unique setting called the "Smooth Mode" which is very good at skin tightening. It can be used on any skin site. When used around the eyes, it is called SmoothEye® and can give noticeable tightening within a few days. The photographs below show the result of this treatment. The skin is only slightly pink for a few days, but the tightening is also noticeable within a few days and is long lasting. The smooth mode can also be used for targeted sites of tightening e.g. jawline and the central neck, as seen in the 2nd set of photos.
Fotona Treatment – Eyes After One Treatment
Fotona Treatment – Neck After One Treatment
The smooth mode can also be used with a scanner (called the T Runner) for deeper penetration and rapid coverage for deeper tightening of larger areas. It can be used for deep tightening of larger areas such as lower face, neck, abdomen, arms, thighs, and improvement of cellulite.
If you are interested in finding out more about how any of our treatments can benefit your skin, check out our website or contact us.