Microdermabrasion

Print
What Is Microdermabrasion?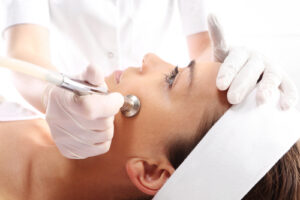 Microdermabrasion, or crystal peel, is an effective deep exfoliating procedure designed to enhance the quality and appearance of the skin. Dr Anne Farrell, our experienced dermatologist, offers this procedure for patients wishing to address common cosmetic concerns. Microdermabrasion can be performed on virtually any skin tone and type, and the treatment can be customised to optimise the benefits for each patient.
What Concerns Can Microdermabrasion Treat?
When done repeatedly medical microdermabrasion can be helpful in treating acne and may enhance the effectiveness of other treatments for fine lines, superficial scars and melasma. By removing the very superficial layer of the skin (the stratum corneum), medical microdermabrasion may also help the penetration of prescribed treatment creams such as Vitamin A creams or skin lightening creams. During your initial consultation, Dr Farrell will evaluate your areas of concern and develop a personalised program to deliver the best outcome possible.
What Types of Skin Are Suitable for Microdermabrasion?
Microdermabrasion is suitable for most skin types and is particularly good for individuals concerned about acne, oily congested skin, melasma, and wrinkles. It can be done on skin of all colour, and can be done if you have a tan. However, for individuals with very fair, sensitive skin and rosacea, other treatments may be more appropriate and Dr Farrell and her team can advise which is the best treatment for your skin type.   
What Does Microdermabrasion Involve?
Microdermabrasion treatment takes approximately 15 minutes, is typically pain free, and feels like a deep exfoliation. Using a vacuum technique, fine crystals are blown at the skin to exfoliate it and then suctioned away, removing the very superficial layers of the skin and excess oil. It feels like a gentle vibration and exfoliation on the skin. Additional treatments, including topical formulas, may be applied afterwards, depending on the cosmetic program. Immediately after the procedure, patients should notice that their skin feels smoother, and with repeated treatments most individuals notice an improvement in acne or fine lines or melasma, depending on the conditions being treated.
How Long Will Recovery Following Microdermabrasion Take?
Microdermabrasion is a gentle treatment with very little recovery time or side effects. Following the procedure, the skin may look slightly pink for a few minutes. Make can be applied straight away, and normal day-to-day activities can be resumed immediately. Although the treatment is very gentle in the summer it is wise to wear a sunscreen afterwards.  
How Many Microdermabrasion Treatments Will I Need?
Most individuals find that a course of microdermabrasion has more benefit than a single treatment and report that the skin feels smoother after treatment. Treatments can be performed weekly in the case of severe acne, and every one to four weeks as part of a skin rejuvenating or melasma treatment plan. Patients may have between five and twelve treatments in total to achieve the desired effect. We will discuss the recommended number of treatments with you at the initial consultation, and many patients choose to have top-up sessions a few times a year to maintain the benefits. There is now well-established laboratory evidence that if microdermabrasion is done repeatedly it results in the production of new collagen, so many individuals have microdermabrasion on a regular basis to reverse the signs of skin aging.
How Much Does Microdermabrasion Cost?
The price of microdermabrasion will vary depending on the size of the treatment area and number of sessions being performed. Microdermabrasion for acne costs £55 for the face, or £75 when done as part of a "Dermatology Consulting Facial with Microdermabrasion" for wrinkles or melasma (which includes application of specifically chosen skin care products to address your individual skin concern). When a course of six is performed the sixth treatment is free. Other sites on the body can be treated too (e.g. back and chest), and the prices are available on our price sheet.  
If you are interested in finding out more about microdermabrasion or wish to book a session, then please do not hesitate to contact us.