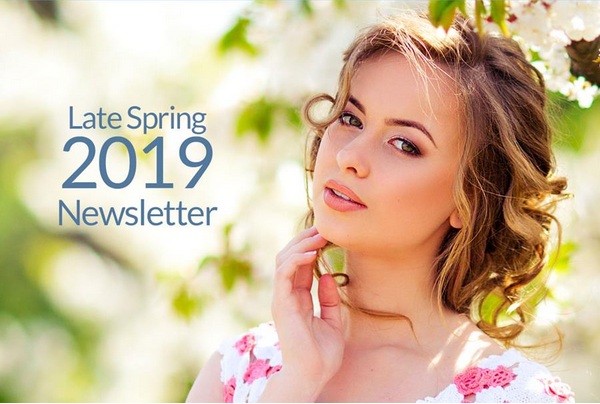 As spring truly gets underway with blossoms and fresh leaves appearing, and the sun slowly gaining in strength but not yet strong enough to tan, now is the ideal time to get your skin ready for the summer.
"Skin Fitness"

Think of skin care and treatments like a fitness routine. It is better to do regular exercise addressing different fitness concerns than doing just one big treatment occasionally.
As you have gathered from our website, we provide a whole range of treatments ranging from Fraxel® Re:pair, which gives noticeable results after a week of recovery, to gentle treatments with no recovery time such as microdermabrasion and Laser Genesis. It is best to combine occasional powerful treatments such as Fraxel® Re:pair or Fractora with more frequent gentle treatments. All of these treatments stimulate collagen production to different degrees, and it is best to combine treatments either on the same day or separate days.
In our clinic we have put together a table which lists the different treatments we offer and their recovery times. Our staff will be delighted to answer any questions you may have about this. We also offer a number of combination packages as listed on the back of the price sheet. Both the table and price list are available in our waiting room or can be emailed to you if requested.
Neck Rejuvenation

The neck is an area which particularly benefits from combination treatments.
A good combination which tightens the neck and improve texture is:
Four monthly sessions of skin tightening with Fotona SP Dynamis using either two steps, known as 2D (which uses the Frac3 and Piano settings) or three steps known as 3D (which uses an additional third step called the Smooth mode), plus one Fraxel® Re:pair, done one week after one of the Fotona sessions. With 2D there is no recovery time. With the 3D setting, there is slight pinkness and flaking for a few days.
The price of this package is:
One Re:pair done by nurses and four 2D – £1500
One Re:pair done by nurses and four 3D – £1870
One Re:pair done by Dr Farrell and four 2D by nurses – £2000
One Re:pair done by Dr Farrell and four 3D by nurses – £2370
Alongside this, use the "Neck Firming Cream" twice daily and the "Advanced Retinol Forte" every night.
If there are significant brown spots, one or two sessions of Fraxel® Re:store Dual Wavelength treatment using the 1927nm wavelength can be added in for £395 per session.
Microneedling

We are delighted to announce that the arrival of the upgraded microneedling SkinPen® by Bellus Medical. This is currently the only microneedling device with a CE mark which has also been approved by the strict safety regulators in the US called the FDA. The pen has tiny needles (less than the diameter of a fine hair) which vibrate up and down as it is gently glided over the skin on top of a soothing, lubricating gel. A local anaesthetic cream can be applied at home or in our clinic one hour before.
The needle length can be varied from between 0.25–2.5mm depending on what is being treated. The sensation of the treatment feels like a gentle vibration. The skin looks pink afterwards, and the pinkness usually settles within 24-48 hours. As the microneedling does not produce any heat, it does not result in significant swelling or darkening of pigment afterwards and can be done on skin of all colours, whether there is a tan or not. The improvement in fine lines and scars can be surprisingly good for a relatively gentle treatment. We have found that 3–4 microneedling sessions can have results similar to nonablative fractionated laser treatments—e.g. one Fraxel® Re:store. It can be done at the same time as Fotona skin tightening to tackle both laxity and fine lines. There is an aftercare cream we provide, but depending on your circumstances, Dr Farrell can recommend specific prescription creams afterwards based on what is being treated. Microneedling is a gentle treatment and the majority of our patients who have tried it to date have noticed an improvement in their skin.
The price of microneedling is usually £395 for the face if done by Dr Farrell, or £295 when done by one of our experienced nurses. For the upper lip only, the price is £250 with Dr Farrell or £150 with the nurses
Photodynamic Therapy, Including Daylight PDT

Our clinic was among the first clinics in the UK to offer photodynamic therapy (PDT). This is an excellent way to clear precancerous, scaly areas of sun damage which often occur on sun exposed areas, particularly the face, hands and chest. Photodynamic therapy has the advantage of healing quicker than freezing or strong prescription creams, as well as leaving smooth skin afterwards. Additionally, it can be used to treat not only the precancers that can be seen, but also the very early precancerous changes that cannot yet be seen. Unlike freezing, photodynamic therapy does not run the risk of leaving white marks on the skin.
The standard way of doing photodynamic therapy is to apply Metvix to the skin for three hours and then shine red light for approximately 10 minutes. This is an extremely effective way of doing photodynamic therapy, but when the skin is very sun damaged, it can be uncomfortable.
Daylight PDT is a technique where we apply the cream, and you can then sit in the sunshine for two hours enjoying the benefits of our south facing garden and fresh coffee machine. This is less uncomfortable than the standard red light method. With both standard red light PDT and daylight PDT, the skin is red and slightly scaly afterwards for approximately 5–7 days. Daylight photodynamic therapy can be performed from April to October (provided it is not raining), as there is enough natural sunshine at that time of the year.