Mohs Surgery

Print
For some forms of the skin cancer, particularly basal cell carcinoma, it can be difficult to know where the edges of the skin cancer lie. This is particularly the case in some forms of basal cell carcinoma where the basal cell has irregular edges (a pattern called infiltrative or morphoeic), or where basal cell carcinoma has recurred at sites of previous excision or radiotherapy.
In the standard method of removal of basal cell carcinoma, the skin cancer is cut out and then the remaining skin sewn together. The skin cancer that is removed is then sent to an external laboratory to be analysed down the microscope to check whether it is fully removed with clear edges. This works well where the basal cell carcinoma has visibly sharp edges (a pattern called nodular basal cell carcinoma). However, in morphoeic basal cell carcinomas the edges are harder to see, so if they are removed with the standard method, sometimes when the specimen is subsequently analysed down the microscope they are found to be not fully removed.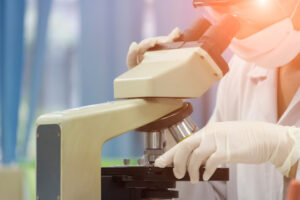 Mohs surgery was developed by Dr Mohs in the US as a method where the basal cell carcinoma is removed and the sample immediately examined down the microscope on-site to see if the edges are clear. If the edges are not clear, then more skin is removed and examined down the microscope. This process continues until the analysis down the microscope shows that the skin cancer has been fully removed. The patient stays in the clinic while the skin removed is examined down the microscope. Once it is established that the skin cancer is fully removed, the excision site is then closed. This way the patient has the confidence that the skin cancer has been fully removed before the wound is closed.
Mohs surgery is mainly used for morphoeic basal cell carcinomas or recurrences in scars that have been previously incompletely removed. It is sometimes used for other types of skin cancer, including slow growing melanoma on the face (called lentigo maligna).
We have set up an onsite laboratory in our clinic and hired a skill laboratory technician to examine the skin down the microscope. Our Mohs surgeon, Dr Rhonda Meys, is a fully trained consultant dermatologist who has done additional fellowships in Mohs surgery at the Royal Free Hospital and St John's Institute of Dermatology at Guys and St Thomas's hospital. 
Please do not hesitate to contact us if you wish to find out if your skin cancer would benefit from Mohs surgery.